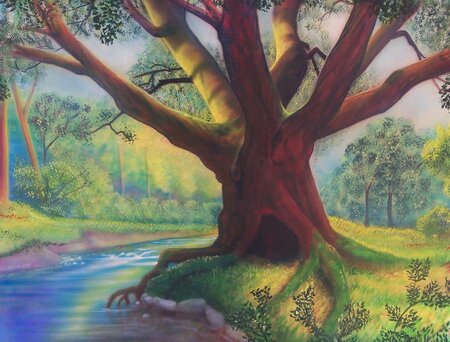 Would You Rather?
Would You Rather" is a fun ice-breaker game that you can play with anyone, anywhere. All you need is at least two players and a creative mind to come up with interesting scenarios and questions. The better questions get the players thinking deeply and applying astute critical thinking skills in order to choose formidable answers. For instance would you rather have powers to make you invisible, or powers to read minds? Both powers are enticing and both powers could help a person gain knowledge they couldn't have if they did not have the powers. Which power do you think is better and why? To what end would you use the power?
This week in Children's Church kids will be reading Psalm 1. They will learn about scoffers and mockers, righteous and wicked, and how to identify those qualities in the people who surround them. They will hear about the metaphor of trees planted by streams of water, and painting a tree to remind them of our lesson goal.
But, what does this have to do with the "Would You Rather" game? Well mockers and scoffers tend to be the life of the party and the trend setters. Their views often set cultural agendas. They promote fringe ideas that later become common practices in society. So, when kids hear competing cultural values, they will need shrewd "Would You Rather" skills. They will need to understand that delighting in the law of the Lord will plant them solidly along the riverbank rooted in righteous answers to the relentless question of that ancient serpent who seeks to devour and destroy.